42ND INAUGURAL CEREMONIES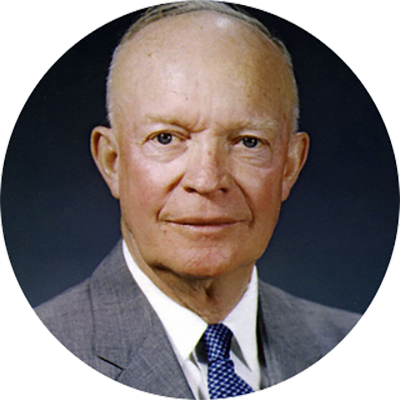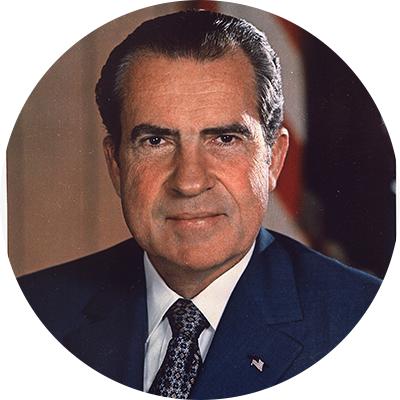 INAUGURAL COMMITTEE
Sen. Styles Bridges (R-NH), Chair
Sen. Carl T. Hayden (D-AZ)
Rep. Leslie C. Arends (R-IL)
Rep. Joseph W. Martin (R-MA)
Rep. Sam T. Rayburn (D-TX)
THE SWEARING-IN CEREMONIES
T
he Swearing-In Cerem
ony
:
Dwight D. Eisenhower was sworn-in as the 34th President of the United States, and Richard M. Nixon was sworn-in as the 36th Vice President of the United States.
Location:
East Portico, U.S. Capitol
Washington, DC
Weather:
Cloudy skies, with a noon temperature of 49°F.
Bible:
Eisenhower used two Bibles: the Bible used by George Washington in 1789 (belonging to St. John's Masonic Lodge No. 1), opened to II Chronicles 7:14; and his own personal "West Point Bible," opened to Psalm 33:12.
INVOCATION
The Most Reverend Patrick A. O'Boyle, Archbishop of Washington
NATIONAL ANTHEM
Performed by Dorothy Maynor accompanied by the United States Marine Band, led by Lt. Col. William F. Santelmann
VICE PRESIDENTIAL OATH
Administered to Richard M. Nixon by Senator William Knowland
MUSICAL SELECTION
"America, the Beautiful" performed by Eugene Conley, accompanied by the United States Marine Band
PRAYER
Rabbi Abba Hillel Silver of Cleveland, OH
PRESIDENTIAL OATH OF OFFICE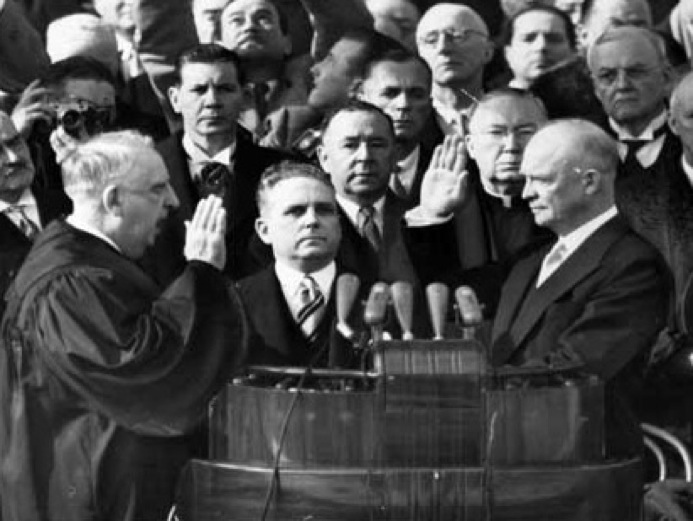 Administered to Dwight D. Eisenhower by the Honorable Frederick Vinson, Chief Justice of the United States.
INAUGURAL ADDRESS
President Dwight D. Eisenhower
BENEDICTION
Bishop Henry Knox Sherrill
For the first time, members of the Joint Congressional Committee on Inaugural Ceremonies hosted a luncheon in honor of the newly sworn-in President and Vice President. Approximately 200 guests including the new President, Vice President, members of their families, the Supreme Court, Cabinet designees, and members of Congressional leadership attended­­ the event in the United States Senate Restaurant.
LUNCHEON MENU
Gulf Shrimp
Olives, Radishes, and Tomato Juice
Creamed Chicken in Patty Shell
Baked Sugar-Cured Ham
Cranberry Jelly
Watermelon Pickles
Potato Puffs*
New Peas in Butter
Green Salad
Ice Cream Sundaes
Petits Fours