40TH INAUGURAL CEREMONIES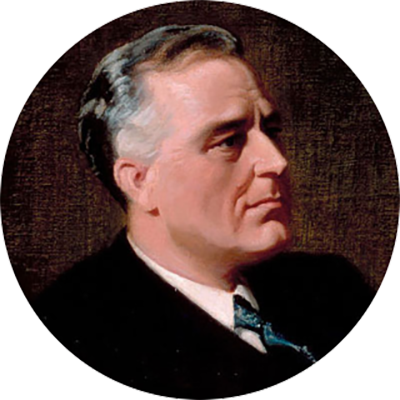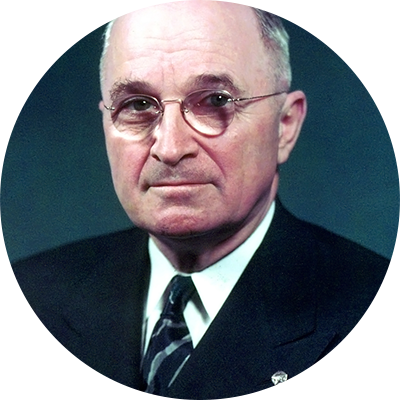 THE SWEARING-IN CEREMONIES
The Swearing-In Cerem
ony
:
Franklin D. Roosevelt was sworn-in for his fourth term as the 32nd President of the United States, and Harry S. Truman was sworn-in as the 34th Vice President of the United States.
Location:
The White House
Washington, D.C.
Weather:
Light snow ended around 9 a.m. that morning. Cloudy skies. Estimated noon temperature of 35°F.
Bible:
Same family Bible used for his 1933, 1937, and 1941 Inaugurations, open to I Corinthians 13.
INAUGURAL COMMITTEE
Sen. Harry F. Byrd (D-VA), Chair
Sen. Kenneth D. McKellar (D-TN)
Sen. Arthur H. Vandenberg (R-MI)
Rep. Sam T. Rayburn (D-TX)
Rep. Robert L. Doughton (D-NC)
Rep. Joseph W. Martin (R-MA)
FACTS, FIRSTS, AND PRECEDENTS
First and only president sworn-in for a fourth term; had simple Inaugural Ceremony at the White House; At the height of WWII, Franklin D. Roosevelt's fourth Inauguration was simple and austere with no fanfare or formal celebration following the event. There was no parade because of gas rationing and a lumber shortage.
INVOCATION
The Right Reverend Angus Dun, Bishop of the Protestant Episcopal Diocese of Washington
VICE PRESIDENTIAL OATH OF OFFICE
Administered to Harry S. Truman by the outgoing Vice President Henry A. Wallace.
 PRESIDENTIAL OATH OF OFFICE 
Administered to Franklin D. Roosevelt by the Honorable Harlan F. Stone, Chief Justice of the United States.
 INAUGURAL ADDRESS

President Franklin D. Roosevelt 
BENEDICTION
The Right Reverend Monsignor John A. Ryan, director of the Social Action Department of the National Catholic Welfare Conference.